Well let's start with the books I've read in June, there aren't many since I was busy with life and moving and all that stuff but here is what I was able to read.
~books I've read~
Cole
Karla Sorensen
Cole Mallinson has never been able to move on.
It's been two thousand, three hundred and sixty-two days since he's seen his ex-wife, Julia. He's never stopped loving her, never stopped wishing she'd come back. Everyone thinks he's lost his mind for never moving on, but they couldn't understand. It was never a choice.
Seven years ago, Julia Mallinson left Denver, and even though it's the last place she wants to be, she's back. The years of infertility that she and Cole endured during their marriage wore her down past the point of breaking. And when she left, she didn't look back, couldn't look back, for the sake of her sanity, her heart.
Between an accidental run-in at the grocery store and a meddling pregnant sister, Julia is forced to face the man she walked away from. The man who still, after all these years, has never moved on. Though neither has she.
And in the end, she's left wondering if the past is ever left in the past.
I Loved this book! It was perfect! I love reading second chance stories and this one did not fail me! This book makes me want to go and check out her other books as well. (Maybe I will, you never know..)
A Lily on the Heath
(Medieval Herb Garden #4) 
Colleen Gleason
Passion and deception amid the turbulent court of Eleanor of Aquitaine and Henry II.
An honorable man: Malcolm de Monde, Lord of Warwick needs a wife. He reluctantly journeys to the royal court where his plan is simple: find a dutiful woman, gain the king's approval for his choice and return to Warwick with his chosen lady wedded, bedded, and carrying his heir—all before winter.
An independent woman: Judith of Kentworth, Royal Falconer and lady-in-waiting, is a woman from Malcolm's past. Although she is a confidante of the queen, Judith's beauty and vivacity attract the unwanted attentions of the king—and the woman who commands winged predators becomes prey herself.
A simple plan that goes awry when Malcolm encounters Judith, once betrothed to his friend—and a woman who is nothing like the meek wife he seeks…but who may be exactly the type of woman he needs.
An impossible choice: Malcolm offers Judith a chance to escape her predicament…But can she risk entangling her own personal white knight in a dangerous web of royal intrigue?
I've said it before but I absolutely love historical romance! Especially ones that are based off of historical facts. This book did not disappoint me in the least. It had a strong leading lady, a handsome hero and of course danger and intrigue around every corner!
Bad Penny
Staci Hart
Nothing good comes after the third date.
Date three is the crucial point when things get real, which is exactly why I bounce out the door, twiddling my fingers at whatever poor boy I've left behind. Because if I stick around, one of three things will happen: he'll profess his undying love, he'll get weird and stalky, or I'll go crazy. Like, Sid and Nancy crazy. Like, chase-him-through-the-streets-begging-him-to-love-me crazy.
Seriously, it's better for everyone this way.
So when I meet Bodie, I figure it'll be the same as it ever was. It doesn't matter that he doesn't put a single string on me. Doesn't matter that he's funny and smart and jacked or that he can play my body like a grand piano. Because even though I'm built for love, love has only carved me up like a Christmas ham.
Resistance is something I can only hang on to for so long, and he has persistence in spades. But my heart isn't as safe as I want to believe, and neither is his. And the second I ignore my cardinal rule is the second I stand to lose him forever.
Oh my this book was so sexy, funny, heartbreaking, all at the same time! I loved Penny and Bodie's story, I love her three date rule. But most of all I love how it didn't work on Bodie and how he gave her the time and space she needed. Staci Hart did it again and I love it!! Can't wait for her next book!!
~currently reading~
Right now I'm reading a book suggested to me by author Kandi Steiner.  So far its pretty good, I've only just started it so we will see how it goes.
The Weight of Life


by Whitney Barbetti
-Mila-
"Don't let go." Those were my first words to him, as I hung over the side of a London bridge. The words I would soon say again, in a moment that didn't involve bridges, but something much more fragile: my heart.
He held onto me for three weeks, in a time when I needed to be held. Needed to connect to someone who understood how loss tunneled unrepentantly through the fabric of your soul.
Although he said he'd stay, we both knew he wouldn't. I had already survived one loss—I didn't know if I'd survive another.
-Ames-
She spun into my life like a tornado of smiles and chatter and everything else I'd long avoided, with a persistence that I admired, albeit begrudgingly. She broke down each neat wall I'd constructed without even trying. Her presence alone caused me to remember what it felt like to smile, to look forward to what the day would bring.
But it was only supposed to last three weeks.
"Don't let go," she'd pleaded.
I'd promised her I wouldn't—but I would. I didn't have a choice.
~currently on my TBR list~
Only With Me (With Me #2)


by Kelly Elliott
Life was great.
I loved my bachelor life and working my dream job with the Colorado Springs SWAT team.
That all changed the day I stepped into her bakery. Her smile swept me off my feet, and her panna cotta was heaven.
Cue my very traditional Greek family.
Then all hell broke loose.
The woman I was falling in love with was Italian, and my mother was hell-bent on proving to the world she was the better cook.
If my meddling family wasn't bad enough, for the last six years Gabi had been on the run from a past she tried desperately to escape from.
Between a beautiful woman on the run, and a crazy family constantly in my business, would I be able to show her I'm the only one who can keep her safe … or will her past steal her away from me?
The Way Back Home


by Carmen Jenner
August Cotton shouldn't be here. When a tragic accident calls him home to Magnolia Springs, this returned Veteran adds his parents to the list of things he's lost in recent years, right along with his IED detection dog and his left leg. As the sole guardian of his four-year-old sister, August must rely on his Marine training in raising a tiny hellion who's as stubborn as he is. But the Corps could never prepare him for this. Nor could they prepare him for Olivia Anders, a woman who'll stop at nothing to get her way.
As owner of Paws for Cause, Olivia is no stranger to the broken men and women who return home from war. She's no stranger to broken dogs either. In fact, she's made it her mission to pair the two and enrich both of their lives, but pairing ornery and aloof August Cotton will take some work. The last thing August wants is some pushy southern woman occupying his parents' bed and breakfast and forcing him to open up about the hell he narrowly escaped, but that's exactly what Olivia intends.
They complete one another, and yet they can't stand to be in the same room.
Can Olivia make this hardened Marine feel again and finally show his heart the way back home?
*** Intended for a mature 18+ audience only. This book may contain triggers for some readers.
I can't wait to read these. I'll let you know how they are when I finally finish them. Look for them in JULY's recap. 🙂
~Books I tried~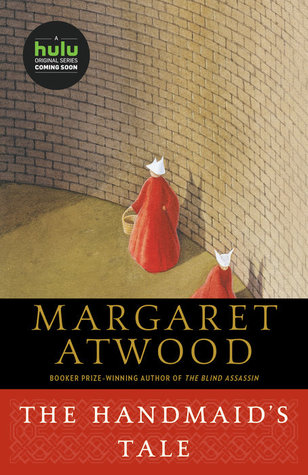 Offred is a Handmaid in the Republic of Gilead. She may leave the home of the Commander and his wife once a day to walk to food markets whose signs are now pictures instead of words because women are no longer allowed to read. She must lie on her back once a month and pray that the Commander makes her pregnant, because in an age of declining births, Offred and the other Handmaids are valued only if their ovaries are viable. Offred can remember the years before, when she lived and made love with her husband, Luke; when she played with and protected her daughter; when she had a job, money of her own, and access to knowledge. But all of that is gone now…
I've tried twice now to read this book, I find the idea interesting, but I can't seem to keep my interest in it for long. I'll probably try to read it again. hopefully I'll make it more than half way through…
So CHAT with me. What have YOU read this month? Did any of the books I've read this month made your list?
thanks for reading! 🙂 ❤
~Llissa~