Hello!! I thought maybe it was time to do a TOP TEN POST what a better way than to throw out some of my favorite books I've read since the year 2017 has started and since its now JUNE almost JULY I figured why not? So are you ready to see what books I liked the most? You probably  won't be too surprised since I usually only review the books I really have loved here on the blog but a few may surprise you so here goes.
#10 Lily on the Heath
author: Colleen Gleason
This book is a medieval historical romance. I love a good historical romance, and this one did not disappoint.  Although it is a fictional story it did stay within the historical facts of the time with Queen Eleanor and King Henry.  Ms. Gleason has several other books in this series that I would like to get around to reading here one day.. on to the next book on our countdown.
# 9 The MacKinnon's Bride (#1 in the Guardian of the Stone series)
author: Tanya Anne Crosby
The MacKinnon's Bride is the first in the series I read by Tanya and I really loved it and wanted to see what would continue to happen in the next part of the series.  I did a mini review of this book and Highland storm, you can find both reviews here:  https://llissasbookviews.wordpress.com/2017/03/29/february-recap/ Like I have said before I do love a good historical romance.
#8 Highland Storm (#3 in the Guardian of the Stone series)
author: Tanya Anne Crosby
I might have mentioned before but I LOVE historical romance, even regency romance. I love going back to another time when things were different. This series was so special, each heroine has a special talent and a reason for being in the right place at the right time for fate to help them find their love match. This is a special series and I'm hoping to read more of Tanya Crosby in the future.

#7 The Silent Waters (#3 in the element series)
author: Brittainy C. Cherry
This is story is about Maggie and Brooks. When Maggie is very young she witnesses a terrible event, it is so traumatic for her that it changes her life forever. As time goes on the only one who really communicates with her is Brooks. Everyone else tries but Brooks is able to reach Maggie on a whole different level. Its wonderful to watch and see how these two young people come together through it all.
# 6 Fire Between Hi and Lo (#2 in the element series)
author: Brittainy C. Cherry
Alyssa and Logan's story is filled with heartbreak, but in this story they manage to find each other and pull each other thorough their darkest days. They both go through some dark times both together and alone. Its a wonderful journey and I love their story.
# 5 The Gravity of Us (#4 in the element series)
author: Brittainy C. Cherry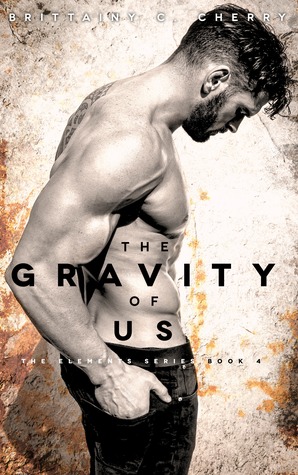 The Gravity of Us is my favorite Brittainy C. Cherry book I've read so far. I absolutely loved Graham and Lucy story. It was what made me want to read the rest of the element series she has. Their story is slightly different from what I have ever read before. That's what was so special about it and I couldn't wait to see what happened next.

#4 Paper Fools author: Staci Hart
I LOVED Paper Fools!! Staci Hart is funny and sassy and she just knows how to get you to laugh and fall in love with a character all at once. You can find my review I did for Paper Fools here: https://llissasbookviews.wordpress.com/2017/04/23/book-review-paper-fools-staci-hart/  now #3 should be no surprise because its also written by Staci Hart!
We are getting close to #1! here are the last 3!

#3 A Thousand Letters
author: Staci Hart
This book was CRAZY. I mean really it had a little of everything in it. Anger, helplessness, bitterness, and then the crazy family that poor Elliott has to put up with.. its intense. I really enjoyed the emotional rollercoaster that Staci puts you on while she's wrapping you up in her stories. I didn't write a review for A Thousand Letters (I should have) but I did do a mini review on it here: https://llissasbookviews.wordpress.com/2017/03/29/february-recap/

#2 Revelry author: Kandi Steiner
Second favorite book happens to be written by my favorite author right now Kandi Steiner. Revelry is an emotionally packed book that takes you everywhere. I also did a book review for this book. (Both reviews Kandi appreciated by the way) you can find my review for Revelry here: https://llissasbookviews.wordpress.com/2017/05/01/book-review-kandi-steiners-revelry/ Kandi Steiner has other amazing books she has written and I have read some of the other books but I haven't reviewed them, but just because I haven't reviewed them doesn't mean they are awesome! (I just can't do all my book reviews on just Kandi Steiner's books now can I???) I mean I have to share the love…. just saying. OK! on ward to number 1!
Since we are talking about Kandi and her amazing writing skills we might as well talk about my #1 favorite book…

#1 A Love Letter to Whiskey
author: Kandi Steiner
This is my absolute favorite book so far in 2017! This was also my very first book review! you can check it out here.. https://llissasbookviews.wordpress.com/2017/02/08/first-book-review-a-love-letter-to-whiskey/
This book had me all over the place in the feeling department! that's what I love about Kandi Steiner's book they take you all over the place emotionally.
ok so there you have it.. my 10 ten so far this year.. what did you think of my list? and what is your favorite book so far this year? Have you read any of the authors I've listed here? Is there someone you would recommend I read? Let me know in the comments below!
Thanks for reading!
Llissa